Black Heart by Holly Black


Cassel Sharpe knows he's been used as an assassin, but he's trying to put all that behind him. He's trying to be good, even though he grew up in a family of con artists and cheating comes as easily as breathing to him. He's trying to do the right thing, even though the girl he loves is inextricably connected with crime. And he's trying to convince himself that working for the Feds is smart, even though he's been raised to believe the government is the enemy.

But with a mother on the lam, the girl he loves about to take her place in the Mob, and new secrets coming to light, the line between what's right and what's wrong becomes increasingly blurred. When the Feds ask Cassel to do the one thing he said he would never do again, he needs to sort out what's a con and what's truth. In a dangerous game and with his life on the line, Cassel may have to make his biggest gamble yet—this time on love.
296 pages | Published: April 3, 2012 | Margaret K. McElderry Books

MY THOUGHTS:
I need this series to not be over. Partly because it's so good, and partly because I still need answers. At the same time I understand that there could never be enough answers to Cassel's life. Black could keep writing this series and it would result in me craving more, more, more.
Point blank: Black Heart – and, generally speaking, the Curse Workers series – is addictive.
This book was the one that had me on the edge of my seat the most. I really, really feared for Cassel and wanted everything to work out for him. He took hold of my feelings like no male character has been able to do in a while. He's not the nicest or brightest kid. I mean, let's just say it: he's done many illegal things. And yet I still wanted things to work in his favor. He proved he could change; he proved it to me and himself. And the greatest thing is that his growth is taken yet another step further than seen in Red Glove. I won't spoil anything, but he shares quite a touching moment with Sam. (I went and re-read it. It's that cute.)
I think the only disappointment with Black Heart is its predictability, which I'd learned to spot in the past two books. The denouement is thrilling and gripping, but it didn't leave me in the dark. I think, this time, Cassel's story is missing that extra oomph, that extra con magic. (I say con "magic" because this time the cons seem sloppy.) If the cons matched the personal elements, it would've been absolutely perfect.
But this doesn't change the fact that Cassel Sharpe stole my heart. (Or that I'm letting him keep it.)
Imagine my surprise when I came across this post – "Should bloggers charge authors for reviews?"
My exact comment was "This …. is an actual THING? That's REALLY happening? If I EVER thought to charge for reviews, I'd have to walk around with a bag on my head. I'd be so ashamed." And I'm still sticking by it. I would be ashamed, as a book blogger. I understand the situation would differ if I were working for a magazine or newspaper or other publication, but I don't blog for money. I blog because I love reading, writing and supporting all the awesome authors out there.
I feel terrible that authors would even consider paying bloggers to write book reviews. We're awesome marketing tools, but we're certainly not all reputable sources, writers or even readers. And the fact that "nice reviews" are being promised for the payments makes this sitatuon all the more disheartening. How can any blogger promise a "nice" review? What is "nice" to them? Positive? Or tactful and respectful? When I think "nice," I think positive. As a blogger, do you like everything you read? Would you say you provide a "nice" review for those books you dislike? I wouldn't. I would say I provide an honest review.
But I don't take issue only with the "nice review" notion. I'm also shocked by the pricing. How can you charge $95 for a review? How do you determine such a price? That certainly covers more than the cost of the book to review.
I realize this is a very sticky situation, one that has far too many variables that can sway opinions. But I think at the heart of the matter, bloggers shouldn't be charging for reviews. If you're going to charge for reviews, then you're not merely a blogger. You're a paid advertiser.
What do you think?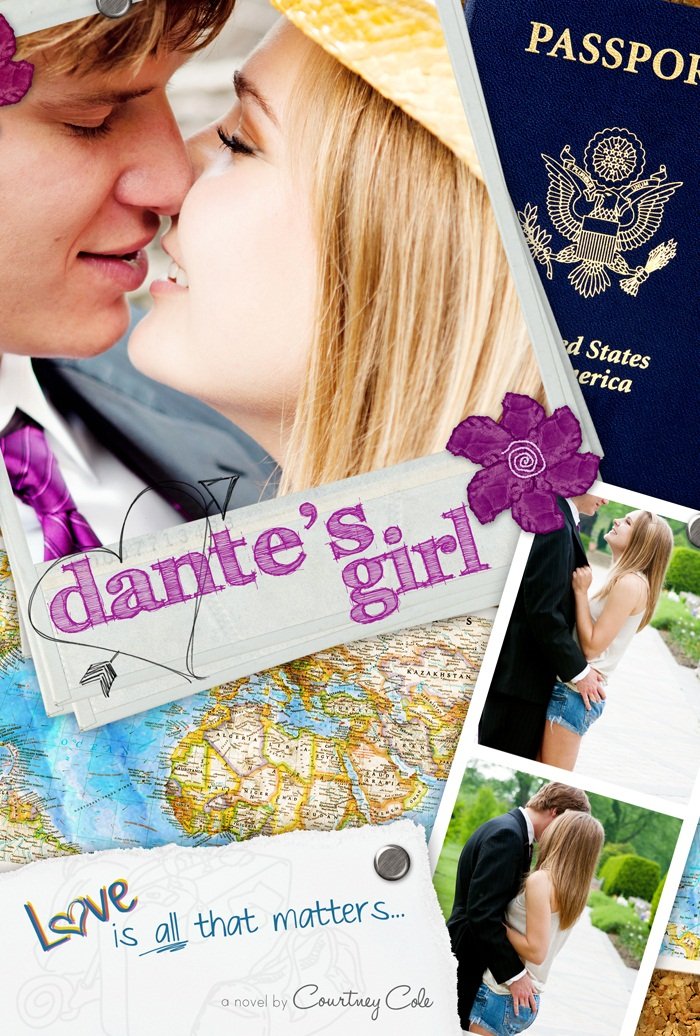 Dante's Girl by Courtney Cole


I have spent every summer since I was ten years old with my father in London.  Every summer, since I was ten years old, has been uneventful and boring.
Until this year.
And this year, after a freak volcanic eruption strands me far from home, I have learned these things:
1.  I can make do with one outfit for three days before I buy new clothes.
2.  If I hear the phrase, "You're not in Kansas anymore, Toto," even one more time, I might become a homicidal maniac.
3.  I am horribly and embarrassingly allergic to jellyfish.
4. I am in love with Dante Giliberti, who just happens to be the beautiful, sophisticated son of the Prime Minister of a Mediterranean paradise.
5.  See number four above.  Because it brings with it a whole slew  of problems and I've learned something from every one of them.
Let's start with the fact that Dante's world is five light-years away from mine.  He goes to black-tie functions and knows the Prime Minister of England on a first name basis.  I was born and raised on a farm in Kansas and wear cut-off jeans paired with cowboy boots.  See the difference?
But hearts don't care about differences.  Hearts want what they want.  And mine just wants to be Dante's girl.
My heart just might be crazy.
Release: June 22nd by Lakehouse Press
goodreads | amazon | B&N
1ST CHAPTER EXCERPT:
"Don't worry," Dante says quietly, unpeeling one of my hands and grasping it within his own.  "It will be fine."
The feel of his hand distracts me.  Strong and warm, it cups my own carefully, like he is holding something very fragile.  I close my eyes and enjoy the feeling. I only have a couple of minutes to soak it in, however.
As the plane moves down the runway in preparation for take-off, something happens.  Something isn't right.
Our plane rocks a little, then quivers, like it is being moved by a strong gust of wind.  I feel it a brief moment before Dante tightens his grip on my hand, a split second before light explodes from outside of my eyelids.  I open them to discover fire tearing down the runway past my window.  Before I can react or even scream, all hell breaks loose.
—————————————————————————————————-
This is the moment that had me hooked. Going by the summary, I wasn't expecting any sort of thrill so early on. Sure, it's hinted at, but nothing like this!
Stay tuned for my review in the coming weeks.
About the Author
website | twitter |  facebook | facebook fan page

Courtney Cole is a novelist who would eat mythology for breakfast if she could.
She has a degree in Business, but has since discovered that corporate America is not nearly as fun to live in as fictional worlds.
Every Last Kiss is her debut novel and she followed it with the rest of The Bloodstone Saga (Every Last Kiss, Fated, With My Last Breath and My Tattered Bonds).
Courtney lives in quiet suburbia, close to Lake Michigan, with her real-life Prince Charming, her ornery kids (there is a small chance that they get their orneriness from their mother) and a small domestic zoo.
Learn more about Courtney and her books at www.courtneycolewrites.com
When I'm not reading, blogging or doing homework, I'm cooking. Cooking is a lot like reading and writing: it brings ingredients together to create a single dish that tells a story of flavors, family, friends and experiences. And just like with books, you don't have to be the creator. Sometimes we're all just looking for a little eye candy. So here's a little food for thought!
I don't know if you all know this, but I'm a total foodie. A foodie is "someone who has an ardent or refined interest in food." Cooking is all about discovery for me – seeing which ingredients work well together, what flavors can be created, and what new foods can be tried. So now I'm bringing this discovery to TGR!
Every Monday I'll be sharing a new food find, recipe, and of course, some eye candy.
This week: truffles
Raise your hand if, when I say "truffles," you think of these:
But I'm not talking about these tiny, delectable chocolates. I'm talking about these:
By definition, a truffle is the "fruiting body of a subterranean mushroom." There are various types, the most popular being white and black truffles. Oh, and did I mention they're the most expensive food in the world? They can sell for $3,600 per pound!
Unfortunately for my wallet, I love truffles – white or black. Of course, it's difficult to get (and afford) the real thing. So I go for the cheaper routes, like truffle oil and truffle butter. Throw those on pizza, pasta, mashed potatoes, french fries, salad, ANYTHING, and it's pretty darn delicious.
But not everyone is going to like truffles. In fact, I'd be willing to bet there are more people that dislike truffles than those that like them. Their flavor, while reminiscent of a mushroom's, is very earthy and fragrant. I guess you could call it an acquired taste. But I know that just the smell can be a real turn-off, going by my family's reactions.
Truffles are slowly edging into our everyday eating experiences, though. More restaurants are offering "truffle fries" or flatbreads drizzled with truffle oil. Obviously this is good news to me, but I also think it's good news for everyone. I think it's good to be exposed to new food finds, and if you haven't yet tried anything truffle-related, I say go for it.

What did I miss? is a feature here at The Grammarian's Reviews showcasing weekly updates and highlights from both here and other bloggers. So let's get on with the recap!

Commenting: it's important — Why I think leaving and replying to comments is a vital part of blogging.
How to overcome a reading slump — Not enjoying reading as much as you were? Here are 20 steps to help get you back on track.
[review] Red Glove by Holly Black — An awesome, surprising sequel to White Cat.
Contemporary Summer Event — My guest post over at Planet Print, in which I share new and old contemp favorites.
Whip it Up Mondays — Blueberry streusel muffins. (I took a break from making cupcakes!)
________________________________________________________________________________
What an eventful week! My internship ended a week early, so I was able to come home. And that means I can cook all I want and drink all the coffee I want. But what I'm most looking forward to is sleeping in. I'm excited to have more reading time, too. 'Cause let's be honest: sometimes after a day of work I didn't feel like reading. This past week was proof of that. I spent a lot of time holing up in my room and doing absolutely nothing.
And because I did absolutely nothing, I still haven't planned anything for my upcoming blog birthday. I'm going to have to make it my mission to plan something this week.

Say hi to me! — I stopped by Creativity's Corner for a brief interview in celebration of Anne's blog birthday!
Like a film — Novel Sounds introduced this awesome new feature in which they pair books to movies. First up? Anna and the French Kiss!
Favorite covers — Liz shared her favorite contemporary YA covers.
Donate your books — If you have any spare books, Cialina can help you send them off to a good cause: the Reading Club.
After reading several bloggers' posts regarding commenting, it got me thinking about my own commenting practices. This post is merely a reflection on these other posts.
If there's one thing I've learned in my soon-to-be two years of blogging and running a website, it's that not every blogger/website owner can be bothered to either leave comments on others' posts or reply to comments on their own posts. Of course, sometimes this is simply a result of time constraints, especially for those that receive a large number of comments. But in my own experience and opinion, it's still disappointing.
A blog/website in this particular community is not, to me, a one-sided medium or conversation. It's a collaboration of content and feedback (as many other forms of websites and blogs also are). I don't think any of us would remain blogging if we didn't receive any feedback. And by feedback, I don't mean criticisms or compliments. By feedback I mean discussion, conversation, comments. Comments let us know that we're doing something right, that we're providing content people want to read, see, react to, and talk about. Comments form and build connections from one blogger and/or commenter to another.
If you didn't receive any comments, how would you feel? Upset? Ignored? I know I would (and have). Of course, this isn't to say that aiming for 10,000 comments on your posts is the way to go. I don't believe it's about the number of comments, but the quality – you know, getting more than a "Hey I like your blog" kind of comment.
How would you feel if you didn't receive any replies to your comments? Upset? Ignored? I know I would (and have). You see, this is a two-way street. Replying to comments that others have taken the time to leave for you is just as important as leaving comments for others (or so I think). In my own experience, the only times I receive replies to my comments are when I'm commenting on a blogger friend's site. More often than not, if I comment on someone's blog who I'm not Twitter-friendly with, or have known for a while, I won't receive a reply to my comment – no matter how thoughtful or long it is. And to me that means my comment either isn't appreciated, or the blogger simply doesn't care. And you know what that means? I'm probably not going to visit your blog/site again, not when there are others who put effort into establishing a presence, conversation and relationship on their own blog/site.
I've seen others agree and disagree with this. Some say they value returning comments, others don't. And that's okay. You can't tell people how to blog, or how to manage their blogs/sites. But it does hurt to be told that no one cares about getting replies to their comments, because that's not true. I care. I'm willing to bet some of you care, too. If people don't want to reply to mine or anyone's comments, that's perfectly fine. But I wish people wouldn't use the reason that no one cares about their replies.
I take pride in replying to all of the comments I receive on this site, but I do realize that this is my own decision – one that I plan to continue carrying out. So I'd like to thank all of you that have taken the time to comment any of my posts (even if this is your first time visiting). I appreciate all of your comments and the replies you supply to my own.
1. Don't hate yourself for being in a reading slump.
2. Seek comfort, sympathy and similar reactions from others on Twitter.
3. Don't browse NetGalley or Goodreads.
4. Don't look at your growing TBR list.
5. Don't try a book out of your comfort zone.
6. If you tried a book out of your comfort zone and disliked it… refer to #5.
7. Don't worry about not having any reviews to post.
8. Don't post meaningless filler content just because you don't have reviews to post.
9. Get off the computer and try a non-reading activity to give yourself a break.
10. Take a break. Your body and mind will thank you.
11. Ask friends with VERY similar reading tastes for book recommendations.
12. Choose a book that's relatively short – around 200 pages is ideal.
13. If it doesn't immediately grab your attention by the first sentence and/or paragraph, save it for later.
14. Repeat #s 11 and/or 12 until your attention is seized.
15. Remember reading isn't a race. Don't feel pressured into finishing the new book really quickly. Savor it.
16. Don't force yourself to enjoy the new book.
17. When you finally finish the new book, start another.
18. Don't immediately write a review for the first book.
19. Finish the second book and decide whether you want to review them.
20. Remember that you always have the choice to both review and just read for fun. Now celebrate on Twitter!
Then get back to reading.
Red Glove by Holly Black


Curses and cons. Magic and the mob. In Cassel Sharpe's world, they go together. Cassel always thought he was an ordinary guy, until he realized his memories were being manipulated by his brothers. Now he knows the truth—he's the most powerful curse worker around. A touch of his hand can transform anything—or anyone—into something else.

That was how Lila, the girl he loved, became a white cat. Cassel was tricked into thinking he killed her, when actually he tried to save her. Now that she's human again, he should be overjoyed. Trouble is, Lila's been cursed to love him, a little gift from his emotion worker mom. And if Lila's love is as phony as Cassel's made-up memories, then he can't believe anything she says or does.

When Cassel's oldest brother is murdered, the Feds recruit Cassel to help make sense of the only clue—crime-scene images of a woman in red gloves. But the mob is after Cassel too—they know how valuable he could be to them. Cassel is going to have to stay one step ahead of both sides just to survive. But where can he turn when he can't trust anyone—least of all, himself?

Love is a curse and the con is the only answer in a game too dangerous to lose.

MY THOUGHTS:
You know when you love the first book of a series so much and then the sequel lets you down? Forget that notion. It does not apply to Red Glove. Holly Black is one talented lady. The Curse Workers story remains just as captivating, if not more than, in Red Glove as it did in White Cat.
Red Glove is all about taking Cassel's story one step further. There's more Lila, more Daneca, more Sam, more mom, more Barron. The change is imminent, but good. Cassel shows growth; he's not the same boy doing the same things and getting the same results. He's learning, and you can see that through his actions. I love that about his character, because just when you think you can predict what he'll do next, he surprises you.
Red Glove, as a whole, surprises you. It combines all the elements of a mystery and scatters them as minute details. Each character has a story that contributes to the whole.  Sounds like nothing special, but Black seamlessly weaves them together, which allows for a few surprises along the way – like the Feds. Really, the contrast is great: mobsters versus a government agency. As if there weren't already enough tension, Black throws more into the pot. But they are both neither predictable nor stereotypical. They're these two outer forces that are always present, but do not dictate the entire story. Which is good, because if they did, then it wouldn't be Cassel's story to tell. I like that even though Cassel is presented with so many options, he ultimately is the one to choose his own path.
Of course, not everything's picture perfect. I felt the Fed/Mob troubles overshadowed the real issue at hand: Cassel's brother's murder. Regarding that, new characters were introduced that we know little of, and I'm hoping they don't vanish in Black Heart.
This is a very fluid sequel that has a complete beginning, middle and end. And the great thing is that while you're satisfied with the story thus far, you're also left unsatisfied just enough to pull you to the next book. Holly Black truly works wonders with her readers' emotions.
Today I'm visiting Planet Print for the Contemporary Summer Event, sharing a list of YA contemps that you may have overlooked. Make sure to stop by!
When I'm not reading, blogging or doing homework, I'm cooking. Cooking is a lot like reading and writing: it brings ingredients together to create a single dish that tells a story of flavors, family, friends and experiences. And just like with books, you don't have to be the creator. Sometimes we're all just looking for a little eye candy. So here's a little food for thought!
I don't know if you all know this, but I'm a total foodie. A foodie is "someone who has an ardent or refined interest in food." Cooking is all about discovery for me – seeing which ingredients work well together, what flavors can be created, and what new foods can be tried. So now I'm bringing this discovery to TGR!
Every Monday I'll be sharing a new food find, recipe, and of course, some eye candy.
This week: blueberry streusel muffins
In my attempts to bake more, I've found that I'm making a LOT of cupcakes. Like, A LOT a lot. But baking isn't all about cakes and pies. Case and point: muffins! Took me long enough to separate from my beloved cupcake recipes, but I'm glad I did. This new blueberry muffin recipe I found totally rocked my socks and my family's appreciation of my baking skills. These muffins are unbelievably moist and flavorful. Once they're out of the oven, but not entirely cooled, bite into one and savor the melted blueberry goodness.
INGREDIENTS
blueberry muffins
2 cups all purpose flour
1 1/2 teaspoons baking powder
1/2 teaspoon salt
1/2 cup (1 stick) unsalted butter, softened
1 cup sugar
2 large eggs
2 teaspoons vanilla extract
1/2 cup whole milk
2 cups blueberries, fresh or frozen
Streusel topping:
1/2 cup sugar
1/3 cup flour
1/4 cup butter, softened
1 1/2 teaspoons cinnamon
DIRECTIONS
Preheat oven to 350º. Line muffin pan with paper muffin liners.
To prepare streusel topping mix with sugar, flour, butter, and cinnamon with a fork. Sometimes I use my hands to get it fully incorporated so that it has the texture of wet sand. This makes a generous amount of streusel topping which probably could be halved but I like a lot on my muffins.
In a small bowl, whisk together flour, baking powder, and salt. Set aside.
In a large bowl, beat butter and sugar until light and fluffy. Add eggs, vanilla and milk. Add flour mixture and stir until just combined.
Gently fold in blueberries.
Divide batter evenly into 12 muffin cups. Sprinkle muffins with streusel topping.
Bake at 350º for 20 to 25 min, until a tester inserted into the center comes out clean. Makes 12 jumbo muffins.