Archive for January, 2012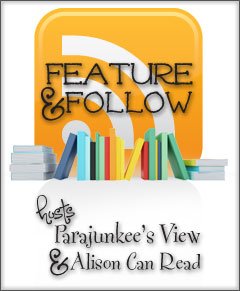 Follow Friday
is now acknowledging and promoting the following of blogs through their RSS feeds! Because this site is proudly powered by WordPress, there's no GFC (Google Friend Connect) option. BUT, you can follow TGR through my feed by clicking
HERE
or over to the right, in my sidebar. You can also subscribe through email!
What is the craziest thing you've ever done to get your hands on any particular book?

I've never done anything crazy to get a book. In fact, the thought of doing something crazy to obtain a book kind of sickens me – unless, of course, it's all in good nature. But otherwise I'm happy to contribute to book sales by doing things the old-fashioned/not crazy way: buying books for myself.
This week at The Grammarian's Reviews
REVIEW – The Statistical Probability of Love at First Sight
REVIEW – The Fault in Our Stars
Blogger to WordPress, a How To guide
(*This post is older, but I think it might be helpful for those looking to switch to WordPress.)
The Statistical Probability of Love at First Sight by Jennifer E. Smith


Who would have guessed that four minutes could change everything?

Today should be one of the worst days of seventeen-year-old Hadley Sullivan's life. She's stuck at JFK, late to her father's second wedding, which is taking place in London and involves a soon to be step-mother that Hadley's never even met. Then she meets the perfect boy in the airport's cramped waiting area. His name is Oliver, he's British, and he's in seat 18C. Hadley's in 18A.

Twists of fate and quirks of timing play out in this thoughtful novel about family connections, second chances and first loves. Set over a 24-hour-period, Hadley and Oliver's story will make you believe that true love finds you when you're least expecting it.

MY THOUGHTS:
This is not a love story.
Wait. What? What are you saying? But the description-
Trust me. I know what the description says; it's what had me sold on the idea of the story to begin with. But trust me when I tell you this is a false advertising of sorts. If you're looking for a cutesy romance full of kisses and flirting, this probably isn't your best bet. Going by the description, you may think this story focuses on Hadley and Oliver. It does not. It focuses on Hadley, her father, and their broken relationship.
Yes, a chunk of the novel is spent with Oliver – but it's not romantic. It's merely human. And by that, I mean it's just like catching glimpses of someone's life. It reads as if you're on the plane with both of them, maybe in the seat behind them, or maybe in the next row over, listening in. There's nothing incredibly romantic about it in the way romance is displayed in YA novels – over the top, consuming, lustful and consisting of many make-out sessions. Instead it's steady and subtle.
This probably would've been more of a bummer for me had I not already been warned prior to reading.
But I do like Hadley and her dad. They're likeable. In the context of the story I expected them to be more drama-rific and annoying, but they're actually pretty real in their actions and words. Oliver is as well, though I never quite warmed to the idea of he and Hadley as a couple; their attraction doesn't seem to have lasting qualities, especially having known one another for only a mere 24 hours.
That being said, I still couldn't help but enjoy the story. The third person point of view is refreshing and calming. Normally I prefer a story to be told in first person, but third person seems to really, really fit this novel; it adds time to what I think would be a too-short time period for a first person narrative.
If you don't dive in expecting love, you'll appreciate the familial growths.
In my mailbox
The Fault in Our Stars by John Green.
The Statistical Probability of Love at First Sight by Jennifer E. Smith.
Bittersweet by Sarah Ockler.
I am so happy with this haul. I've already finished The Fault in Our Stars (LOVED IT!! Check out my review.) and am just about finished with The Statistical Probability of Love at First Sight. Can't wait to get to Bittersweet; I've been anticipating it for a while!
Hope you all are just as happy with the book(s) you got!
The Fault in Our Stars by John Green


Despite the tumor-shrinking medical miracle that has bought her a few years, Hazel has never been anything but terminal, her final chapter inscribed upon diagnosis. But when a gorgeous plot twist named Augustus Waters suddenly appears at Cancer Kid Support Group, Hazel's story is about to be completely rewritten.
MY THOUGHTS:
If I could, I would make this review one word: Augustus Waters.
That would be it. That one name, that one character. It – he – speaks for everything about this story and my feelings for this book.
Please believe me when I say that The Fault in Our Stars is absolutely beautiful and magnificent. Neither my nor anyone's words or praise could do this book the justice it deserves.
If you love Paper Towns and Looking for Alaska and An Abundance of Katherines and are thinking John Green could never outdo himself, prepare to be blown away.  The Fault in Our Stars is stylistically different than all of his previous novels, in a good way; it's so funny, truthful, raw, thoughtful, and ultimately John Green.
If you're familiar with the Vlogbrothers videos, you'll be happy to see some references to Indiana aspects John has previously mentioned in his own videos. They serve as nice surprises to those aware of their existences.
All in all your heart will swell, break and grow. You may even cry. But it'll be worth it.
2012 Must Reads: Which books are at the top of your list to be read this year (new or old releases)?
Try Not to Breathe by Jennifer Hubbard
The Fine Art of Truth or Dare by Melissa Jensen
The Statistical Probability of Love at First Sight by Jennifer E. Smith
Bittersweet by Sarah Ockler
Thou Shalt Not Road Trip by Antony John
The Fault in Our Stars by John Green
MUST. HAVE. ALL OF THESE! I already own TFiOS, and I plan on going for Bittersweet and Try Not to Breathe next. Huuuuuge Green, Ockler and Hubbard fan.
How about you? What's on your 2012 reading list?
Deadly Little Voices by Laurie Faria Stolarz


High school junior Camelia thought her powers of psychometry only gave her the ability to sense the future through touch. But now she's started to hear voices. Mean voices. Berating her, telling her how ugly she is, and that she'd be better off dead. It's a troubling development that has Camelia terrified for her mental stability, especially since her deranged aunt with a suicidal history has just moved into the family house. More torturing, ex-boyfriend Ben, who has similar psychometric abilities, has been spending more time with their classmate Alejandra.

With the line between right and wrong fraying, Camelia turns to pottery to get a grasp on her emotions. She begins sculpting a beautiful figure skater, only to receive frightening premonitions that someone's in danger. But who is the victim? And how can Camelia help them when she is on the brink of losing her own sanity?

MY THOUGHTS:
I love the Touch series. Contemporary horrors/thrillers are just my thing.
BUT… being the fourth book in this series, I expected Deadly Little Voices to give me a little bit more satisfaction than it did. This isn't to say that it's unsatisfying, because it is. It's just that I've come to expect a bit more action, rather than stalling, from this series. The plot is always chilling and exciting, keeping me hooked and guessing from page one. But the whole situation between Camelia and Ben and Adam just makes me want to rip my hair out. I can't even begin to explain how frustrating yet lackluster it is. You can tell there's tension – in fact, it's all up in your face. And so you wait. And you wait. And you wait. And then the tension explodes! ….And then two seconds later it dissipates. I think this is supposed to be some sort of love triangle, but I've honestly got no clue now.
I could go on and on about that horrific ending.
Okay, I'm exaggerating. But it really worked me up. You'll know what I mean when you get to it.
As far as other characters are concerned, I was so happy to see Aunt Alexia's involvement grow! Kimmie and Wes open up a bit more as well. Yet, there's still more to them that we're not quite getting, and again, it's just making me frustrated. When I'm four books into a series, I want information. Progression. Interest. The constant pulling from all sides of the involved parties is waning.
Something's gotta give, and it's not me.
Hopefully everything will come together in Deadly Little Lessons.
I know I've told you my contemplations about moving to WordPress, and the followup, but what about what happened in between? What about the actual move? That's what this post is for – to show you how you can make the move to WordPress, too. I promise it's easier than you think if you take your time and stick with the decision.
STEP 1: There are two versions of WordPress? Help!
Yes, there are two versions of WordPress: WordPress.com and WordPress.org.
The difference between the two, in simple terms, is that the .com version is entirely free. When you sign up, it's much the same way as when you did with Blogger. However, be aware that if you have a custom layout/theme, or want a custom layout/theme, you won't be able to have it. WordPress comes with over a hundred theme options for you to choose from, and there are "Premium" ones you can pay for, but you must use one of their themes. You can change the header and sometimes colors, but that's about it, unless you want to upgrade for $30 to be able to add CSS and change fonts.
Make note, though, that even though you can't customize much, you can have your own domain.
On the flip side, the .org version is free to download. However, it requires an installation, as opposed to the .com version which is just you signing up for a blog account like Blogger. This is where everyone asks, Why do I need to install it? You need to download and install it because, while it is free, the hosting is not free. Granted, WordPress can host if you pay, or you can find cheaper hosting sites. Most hosting sites usually come with a free domain, too. So if you aren't hasty you can get a two-for-one kind of deal for your site. By using the .org download, you can have an entirely custom layout/theme; you're not limited to what WordPress has to offer.
The problem is that many people fear the installation, so they put off the move.
If you're afraid or confused about the WordPress installation process, these guides may help you:
A user step-by-step guide to installing WordPress.
STEP 2: Do I have to install WordPress on my own? I'm horrible with computers! Help!
The good news is no, you do not have to install WordPress on your own if you don't want to. How is this possible? Well, you have a few options:
Ask your layout/theme designer. If you're having a custom layout/theme made, your designer may offer installation services for free or a small fee. You might think you don't want to pay, but think of the hassle it'll save if you're really that uncomfortable with the thought of installing on your own. If they don't list installation as a service, ask! Most designers I've been referred to have offered to set up everything I needed for WordPress. Plus, asking can't hurt.
Some sites/programs will do the installing for you. For example, the web host Fantastico has the ability to automatically install applications to a website. In short: It will do the work for you!
Use visualization to your advantage. Don't like to read long installation guides? No idea where that file goes or what a client is? No problem. Use a video guide to help so you can have someone not only show but talk you through the process. The video guide below starts at the very beginning, before even downloading and installing WordPress; it begins with getting a host and domain.
STEP 3: OK, I know there is a .com & .org WordPress. Which is right for me?
So now you know the difference between WordPress.com and WordPress.org. But which should you use?
Whether you have a domain or not, if you're unable to or don't care to get a custom layout/theme, WordPress.com is your best bet. It's free, easy to sign up and super easy to import everything from Blogger.
If you have a domain and host (or are at least wanting/planning to self-host) and have your own custom layout/theme, then downloading the latest version of WordPress from WordPress.org is what you need to do. You'll have the freedom to make your site exactly how you want it to be without the limitations on customization of WordPress.com.
STEP 4: I'm still not sold. What, exactly, does WordPress look like?
Click through the thumbnails to see what WordPress looks like! They'll show what the Dashboard and Post Editor look like, what's it like looking through themes and the Import and Widget pages. For a comparison, you can also check out the WordPress.org Dashboard and Post Editor; the other menu tabs are all relatively the same.
WordPress.com:
WordPress.org:
STEP 5: I can do it!
Yes, you can do it! You're so close!
You know the differences and you've got the guides and screencaps. You're ready to switch to WordPress and you're ready to do so with confidence. Just believe in yourself and take your time.
REMEMBER: As you're making the change, nothing you have on Blogger will be destroyed. You can import your posts to WordPress without losing what you have on Blogger.
So, no pressure!
The end! You made it!
I hope this How To post is informative enough and answers the questions you may have about WordPress. I've tried to reply to every little question I've gotten. If there's something you're still confused about or you just have a general comment, please don't hesitate to ask/post in the comments or on Twitter; I welcome and encourage all feedback.
I couldn't take the thought of bloggers missing out on this move simply because there's not enough info out there for them to better understand WordPress, and/or because they're hesitant to leave the comfort zone of Blogger. Going by what I've seen on Twitter, a lot of bloggers actually want to make the move – they just don't know how or why they should. Hence, the reason for my creating this post.
If you've stuck around until the end of this, I thank you and wish you the best of luck on making the switch to WordPress!

"THE CHEESE REALLY COMPLIMENTED THE SOUP."

Can you spot the problem here? That's right! Compliment is used incorrectly. The correct word to use in this instance is complement.
COMPL
I

MENT: an expression of praise, commendation, or admiration.
COMPL
E

MENT: something that completes or makes perfect.

If you use compliment, the story goes a little like this:
Cheese: Hey, Soup. You're, uh… you're looking very nice today. You taste great, too.

Soup: Why, Cheese, I'm flattered! Thank you!
If you use complement, the story goes like this:
The savory, salty cheese works well with the sweetness of the soup, creating a balance.
Unless you've got a bunch of magical, chattering foods, your cheese should never be complimenting your soup. Now I hope you'll all remember this little cheese story before you decide which form to use.
REMEMBER: Just because they sound the same doesn't mean they have the same definitions!
*All definitions from dictionary.com
I'm halfway through Deadly Little Voices by Laurie Faria Stolarz. Hoping to finish it or come close to finishing it before I go to bed, but my raging headache may succeed in preventing me.
Also, I have a new addition to add to my TBR list for this read-a-thon. Assuming John Green's The Fault in Our Stars is mailed to me this week, I'll most definitely be reading that before whichever book comes next. MUST. READ. I'm ridiculously excited for it and have been waiting months.
Hope everyone else is doing well with their goals!
What's better than being on Break and having time to read? Being on Break and devoting a week entirely to reading! I'm extremely happy for Bout of Books 3.0, if you couldn't tell. The previous two installments of Bout of Books didn't go so well for me because I had to juggle schoolwork and real work. But now I actually have time and I'm fully prepared to take down some books.
Who's with me?
MY GOALS:
Read at least 3 books.
Finish one of the several books I've started, but stopped reading.
READ LIKE IT'S MY JOB.
BOOKS TO READ:
To keep myself on track, I'm going to post updates daily. Otherwise I'll never go back and update this one post. So be on the lookout for my progress.
What are your goals? What are you going to be reading?