Archive for June, 2012
Meghan Chase is finally getting used to being the Iron Queen, ruler of the Iron Fey. Her life may be strange, but with former Winter prince Ash by her side at last, she wouldn't have it any other way.

But when they travel to the Summer and Winter courts' gathering for Elysium, the oracle from Meghan's past returns with a dire prophecy: "What you carry will either unite the courts, or it will destroy them." Now Meghan faces a devastating choice that may determine the future of all fey—and her and Ash's unborn child….
I don't normally post about upcoming titles, but for this I just couldn't resist. I mean, it's ASH! And…you know…Meghan. But more importantly: ASH! Again!
Being a big fan of the Iron Fey series, I've been impatiently awaiting the next step of the story, The Lost Prince, which revolves around Meghan's brother, Ethan. So imagine my surprise when Kagawa tweeted and posted about Iron's Prophecy. Or, refer to the following gif:
Sure, Iron's Prophecy will only be an e-novella. And yes, its release date is still unknown. But who cares? It's Meghan and Ash! It's the couple I came to adore, the two I never thought I'd hear about again. I'm excited for the prospect of getting more closure for them.
If you're also a fan, make sure to add this to your TBR list ASAP! Because we all need a little more Ash in our lives.
The Catastrophic History of You and Me by Jess Rothenberg


Brie's life ends at sixteen: Her boyfriend tells her he doesn't love her, and the news breaks her heart-literally.

But now that she's D&G (dead and gone), Brie is about to discover that love is way more complicated than she ever imagined. Back in Half Moon Bay, her family has begun to unravel. Her best friend has been keeping a secret about Jacob, the boy Brie loved and lost-and the truth behind his shattering betrayal. And then there's Patrick, Brie's mysterious new guide and resident Lost Soul…who just might hold the key to her forever after.

With Patrick's help, Brie will have to pass through the five stages of grief before she's ready to move on. But how do you begin again, when your heart is still in pieces?

MY THOUGHTS:
So confusingly good.
Be prepared for a whirlwind of a story, because The Catastrophic History of You and Me will blow you away.
When I began reading, what first stuck out was the notion of dying of a broken heart. Cacophony is what I thought. How ridiculous. Backed by Brie's fifteen-year-old voice and perspective, it sounded all the more exaggerated. But the long, drawn-out pacing helped ease me into her narrative. After many pages filled with "adorbs," "offish," "realzies," and other such teen slang, it started to seem like less of an annoyance and simply more a part of who Brie is. The quirks came to define her…positively.
I don't know how I expected the story to fill out 400 pages, but I didn't expect to get to spend so much time with each of the characters – again and again and again. If you pick up on a loose thread, don't worry. Rothenberg makes sure to put it back in its place, until there's a perfectly painted picture. This, to me, was quite a feat. Little details do get lost, but major things continually find their way back into the story, things I'd forgotten about or never thought would pop up again. This made for a delightfully surprising read!
Some aspects seem a little too off track though, almost as if they're misplaced, not unimportant. And this, I think, results from the length and slow pace. Something had to take up Brie's time, and sometimes the events carried on for far too long (unnecessary drama included). Problem with this is that it made me want to slap her. It got to the point that I didn't think there was any hope for Brie; for a long while she consistently proved a stubborn, childish, cheesy snot. I was begging for her to change, to show some semblance of growth. It was at this low point that the story did a 180 and changed course, for the better. I was hooked.
This story will test your patience, but it proves worthwhile if you stick with it. It'll even make you teary-eyed.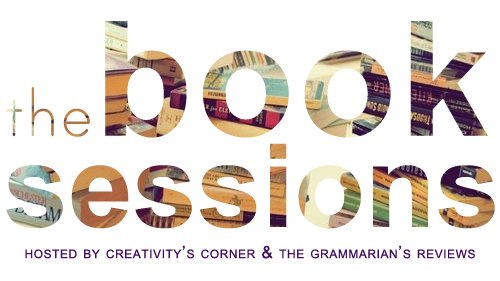 What is The Book Sessions? So glad you asked! The Book Sessions, hosted by both Anne from Creativity's Corner and myself, is a cross between a Read-Along and a Book Club.
Each session will feature 2-5 books of a specific genre or theme that we will be both reading and discussing over the course of several months. The discussions are intended to provide connections between involved readers and spark discussions that go beyond book reviewing and blogging.
The Details:
Reading lists and potential schedules will be posted up to two weeks prior to the beginning of a session, along with a sign-up sheet.
It doesn't matter if you've never read the books listed, or if you've read them 100 times. As long as you're willing to read them with us and discuss them, we don't mind.
Placement in sessions will be limited – we want to be able to get a good real-time discussion going [see: use of Skype], and we want you to be able to get to know your fellow participants.
There will be one official discussion for each book at the end of the allotted reading time. However, Skype names and email addresses will be exchanged between participants, and we encourage you to discuss on your own while you're reading. (Just try not to spoil for anyone who hasn't finished yet!)
These are open-ended discussions. We will have guiding questions to ask should the conversation drag, but we want YOU to talk about what you want. We will, of course, accept suggestions for questions from participants as well. (Note: we don't want any of the readings to feel like assignments. These are open discussions for gushing, questioning, chatting, etc.)
Toward the end of each session, we will be asking for suggestions of book titles, genres, themes and potential dates for upcoming sessions – you'll have a say in what you want to read!
It is NOT necessary to have a blog to participate. If you do not have a blog, and would like to post about the books somewhere and do not have a blog, Anne or I will be doing a round-up post for each book. For those who do have blogs, at the bottom of the round-up posts we will include a linky for reviews or any other kind of post you'd like to add. (Note: reviews and/or any other types of posts are NOT required. Feel free to simply read and chat with us!)
Some things to consider before signing up:
YOU are in charge of finding your own copy of the books, BUT where you get them (as long as it's legal!) and what format you use (e.g. library book, ebook, audiobook etc.) is up to you.
All discussions will be held on Skype unless otherwise stated. Skype is free to download and use, but if you would rather not use it, then please don't sign up.
International participants are welcome! Please be aware that all discussions will be held in English, possibly spoken as well as written. Also, do be aware that we are holding discussions in real time, so we will need to be able to find common times [see: Doodle poll details].
You MAY NOT choose to skip a book. If you sign up to be part of a session, then you are agreeing to read and discuss ALL of the books on the reading list for your particular session. Don't let one book on the list deter you from a session; you never know: you may end up liking it!
As previously stated, places are limited! If you would like to be considered for a specific session YOU MUST FILL OUT THE DOODLE POLL. We will be choosing participants based on common availability, so this is absolutely imperative. If you do not fill out the poll, we will be forced to immediately disqualify you from consideration for that session. (Please note: we are aware that schedules change, and if you aren't 100% sure about your availability, please just give us your general availability. We will do our best to make sure that if you're chosen to participate, we'll find a time that works for you.)
For all potential participants: The Doodle poll times are all in Eastern Standard Time (use New York City as a reference). If you need help with the time conversion, please see THIS SITE.
What now?
This sounds great! Sign me up!
Great! We'd love to have you. Please fill out the form below, and DO NOT FORGET to fill out the Doodle poll! (Please make sure the name on the entry form and the name you enter on the Doodle poll match so that we know who you are!)
I want to participate, but I don't like the books/genre you've chosen! OR I can't attend during the dates you set!
Not to worry! There will be multiple sessions, all of different lengths, at different times of the year, and with different types of books! We've chosen to set up the first session as an example, but we want YOUR input on what to do next time, and we'll be asking for that later. Please just fill out the form below, and instead of filling out the Doodle poll, please mark "Not this time, but please keep me informed about future sessions!"
I want to participate and filled out the google doc form. When will I know if I'm in the session?
For this first session, we'll be announcing/contacting the participants during the second week of July. This way you'll have time to get the first book without having to scramble!
Still confused? Check out the first session below (just click on the titles to check out a description):
August 1-31 : Second Chance Summer by Morgan Matson

(OPTIONAL) August 24-Sept 15 : The Perks of Being a Wallflower by Steven Chbosky (Anne and I will be reading this together in preparation to see the movie, coming out the 15th. Please email us if you'd like to join in!)

September 1-14 : What a Boy Wants by Nyrae Dawn (currently on sale for $0.99 in eBook format!)

September 15-Oct 7 : Catching Jordan by Miranda Keannally

Oct 7-Nov 7 : My Life Next Door by Hunley Fitzpatrick
As readers, bloggers, bibliophiles, and book lovers, we all know the power of a (not so) beautiful cover – because, admittedly, we judge books by their covers. There's no shame in that. Covers are partly marketing tools, so our general immediate feelings regarding an ugly or pretty cover are, essentially, productive feedback.
But I think there's something we're leaving out of this equation: Titles.
Titles are just as much marketing tools as covers, especially when no cover is present. This, of course, refers mostly to online book browsing/shopping, but could be applicable to outdated publications. Cover or no cover, I believe a title is important. This post over at The Guardian thinks so, too. (I enjoy the bit about there being a "'samey title' virus" and that each genre or age category has title trends.)
If you haven't already noticed, YA novels tend to have short, sweet and simple titles. Heck, most are just one word. (Divergent, Delirium, Bumped, Rampant, Matched, Wither, Twilight, etc.) Going by one word alone, do you really have any idea what the book will be about? I'm betting no, and that's all right, because we're not supposed to. One-word titles are some of the best attention grabbers; they're mysterious and draw you in. There's a reason they choose a word like Twilight and not, say, Star (it just doesn't have the same ring to it, does it?).
At the same time, longer titles can be just as mysterious, but not necessarily as captivating upon first glance. In my own experience, longer YA titles often first elicit curiosity from me.  For example, when I go through a recently published list of titles, these longer ones stand out to me, but don't exactly get me too excited: 37 Things I Love (in no particular order), Flora's Fury: How a Girl of Spirit and a Red Dog Confound Their Friends, Astound Their Enemies, and Learn the Importance of Packing Light, The Unbearable Book Club for Unsinkable Girls, Aristotle and Dante Discover the Secrets of the Universe, etc. Do I know what these books are about because their titles are longer? No, and again, that's all right. I have a bit more to go by though, and can make some educated guesses.
Even though longer titles don't impact me as greatly as shorter titles, it doesn't mean I rule them out. I just approach them both differently. It's because of this that I think titles are just as important to evaluate as covers. Plus, you typically can't have one without the other – they're a package.
How do you feel about titles? Do you think covers are more important?
When I'm not reading, blogging or doing homework, I'm cooking. Cooking is a lot like reading and writing: it brings ingredients together to create a single dish that tells a story of flavors, family, friends and experiences. And just like with books, you don't have to be the creator. Sometimes we're all just looking for a little eye candy. So here's a little food for thought!
I don't know if you all know this, but I'm a total foodie. A foodie is "someone who has an ardent or refined interest in food." Cooking is all about discovery for me – seeing which ingredients work well together, what flavors can be created, and what new foods can be tried. So now I'm bringing this discovery to TGR!
Every Monday I'll be sharing a new food find, recipe, and of course, some eye candy.
This week: Sushi vs. Sashimi
Ah, sushi. What ever would I do without you?
You all probably don't know this, but I love sushi. Don't get me wrong: it took me a while to get into it. I'm a bit late to the sushi-loving bandwagon, you could say. I've only been eating it for a few (okay, more like five) years. And even now, I'm still not as adventurous with it as I'd like to be. coughcough Can't go wrong with a California roll, right? coughsushinovicecough.
I'm kidding. I don't eat only California rolls. I've tried eel and salmon and tuna and octopus and sea urchin, too. But while I've tried all these different rolls and all these different flavors, for the longest time I was ignorant to the difference between sushi and sashimi.
I knew that what I ordered was – and is always – sushi, because I ordered under the sushi menu headings. But every time I'm out, I hesitate, scanning the sashimi list, wishing I knew what in the hell it entailed. Thankfully, now I do.
Sushi uses cooked vinegared rice. So your normal rolls – which do have their own technical terms (like nigiri and maki) – typically fall under "sushi." Perfect example is the above picture.
Sashimi is raw meat (usually fish) served on its own. Like the picture to the right.
I don't know about you, but the thought of eating a slab (even if it's thin) of raw fish kind of terrifies me, for several reasons. I don't think I'd like the slimy texture or the flavor, and need I mention the health risk? Call me paranoid, but I don't think even if I wanted to eat sashimi I'd be willing to eat it just anywhere. I do still hope to someday try it, but for now I'm perfectly content with ordering those heavenly little squares.
Although, now that I think about it, I've had raw tuna in rolls before. But that hardly counts. It's so tiny!
Have you ever had sashimi? Any tips for a sushi/sashimi novice?

What did I miss? is a new feature here at The Grammarian's Reviews. I thought it was about time I feature weekly updates and highlights from both here and other bloggers. So let's get on with the recap!

Pros/Cons of teens in YA lit — I can't always take their whining, but this is how they win me over.
[review] Try Not to Breathe by Jennifer Hubbard — If you enjoyed 13 Reasons Why by Jay Asher, this is right up your alley.
Blog bullying? — My thoughts on Twitter negativity.
Grammar Bit #15 — "Peek," "peak," and "pique" all have different meanings. Have you been using them correctly?
Whip it Up Mondays — Two words for you: Twinkie cupcakes.
________________________________________________________________________________
I didn't read this week as much as I would've liked. Any time I settled down to read, I was restless and disinterested. It didn't help that  having to wake up early and walk to work every day in a relentless heatwave made me wiped by the time the afternoon rolled around. But I managed to get in Try Not to Breathe, which I'd bought a little while ago. I also devoted a few nights to prepping an upcoming project that I'm very excited about!
Then, in the midst of the work week, it hit me like a ton of bricks: it's almost July. JULY, people! My summer is half over! I'm a little bummed that I haven't done anything special and that I don't know anyone at my internships this year. (I think they think I'm a hermit.) So I'm hereby vowing to set aside at least one day for something special – perhaps a day at the beach, or NYC. I'm aiming to feel like I've gotten away and been on vacation, without really having gone on vacation. Think it's doable?

How important are covers? — Amanda talks about being in denial about valuing book covers.
Audiobooks: love 'em or hate 'em — Anne discusses her issues with audiobooks.
Sex? …Or violence? .. Or BOTH? — The gals at We Heart YA tackled the ever-present concerns of accepting sex and/or violence in YA novels. How much is too much? Is one more acceptable than the other? It's a hot debate, complete with polls!
Peanut butter & honey cookies — Cecilia shared this recipe for the EASIEST COOKIES EVER.
College blogger? Not a problem — Nicole typed up a spiffy How To post to help college bloggers get a grip on reality and blogging.
Julep nail polish — I didn't know it existed. But it was love at first sight when I saw the bright, summery color in Megan's post. (note: I love painting my nails.)
Is THAT what he looks like? — YA author Lauren Bjorkman talks about how male love-interests in YA novels tend to be all-out beautiful.
Show your love for YA Contemps! — Liz is co-hosting a Contemporary Summer event – and, as you all know, contemps are my favorite reads.
I couldn't help but notice, as I was perusing Goodreads, that a lot of the books I've read recently have featured much younger characters than I typically go for. Being that I'm no longer in my teens, I've found that the older I get, the less I'm able to tolerate and/or relate to younger protagonists (usually from ages 12-16). It's not that I don't want to. It's just that I can't stand their pettiness, drama, and immaturity all the time.
I prefer a more mature read, and in the YA circuit, that usually means the novel takes place the summer before college, or in the Junior and Senior years of high school. But I'm starting to find that I can still enjoy YA books with younger characters – that, if done in a truthful way, rather than overdone and making a spectacle of everything, it's not so bad.
Books like The Fault in Our Stars, Freshman Year & Other Unnatural Disasters, The Fine Art of Truth or Dare, and Try Not to Breathe are examples of recent reads that I thoroughly enjoyed, despite the characters' young ages. With none of them being older than sixteen, I expected nothing short of mood swings, chat speak and first kisses. But what I got was so much more than that. While an innocence is maintained, explored, or broken in each, it's their ability to push beyond the stereotypes and immaturity that makes them stand apart. None of these younger teenage characters are exceptionally special (like, say, Harry Potter) but they capture your attention anyway; they bring you down to their level of understanding, then show you what they can become.
They transcend their given ages. And that, I think, is the magic of a good YA book with YA characters.
Try Not to Breathe by Jennifer R. Hubbard


Ryan spends most of his time alone at the local waterfall because it's the only thing that makes him feel alive. He's sixteen, post-suicidal, and trying to figure out what to do with himself after a stint in a mental hospital. Then Nicki barges into his world, brimming with life and energy, and asking questions about Ryan's depression that no one else has ever been brave enough—or cared enough—to ask. Ryan isn't sure why he trusts Nicki with his darkest secrets, but that trust turns out to be the catalyst that he desperately needs to start living again.

MY THOUGHTS:
It's hard to pinpoint just one thing about Try Not to Breathe that's good when all of it is good, down to its characters, plot and writing.
Like many YA books dealing with suicide, Try Not to Breathe takes place after the suicide (or, in this case, suicide attempt) itself. As the reader, you stick around for the reveal of the details of Ryan's attempt, of Nicki's motives, of Ryan's family's guilt. And when the reveal happens? All I can say is Wow. Each thing that beats down Ryan, that keeps him behind his "glass" is so unexpected, but not in an out-of-this-world way; it's instead in a very, very painfully realistic way.
Hubbard captures both the innocence and magic of Ryan's and Nicki's youth, exploring the miniscule negatives that spawn and grow in teenagers' minds. Ryan's perspective is limited when it comes to himself, but leaves little to the imagination regarding his parents and friends, so you're never left wondering or hanging. It's this closeness to the characters that's so appealing and effective – no matter how little their problems seem at face-value, you end up coming to an understanding that you didn't think would be possible. You'll probably want to give them a hug. I know I did.
The only downside for me is Ryan's recurring need to be reassured through touch. While at first touching (no pun intended), it grew stale very quickly, as if the message it presented was being drilled into my head. I wanted this aspect of him to linger, but not in such a way that his story seems to rely on it. If left me wanting (or expecting) more from him.
But, most importantly, this is a book to savor, not rush through.
[side note: This was one of the few books I was able to actually read while also listening to music. I found that it worked really well with "Something In the Way" by Nirvana, and "Wonderwall" by Oasis.]
If you have a blog, you most likely also have a Twitter account. Even if you don't have a blog, you most likely have a Twitter account. Tweeting is the new mini (micro) blogging. It's quick, it's easy, it's painless. ….Or is it?
Book bloggers follow a whole mess of people, ranging from publishers to authors to fellow bloggers. This, in turn, creates a mixture of formality and informality. And, unfortunately, Twitter doesn't quite run like Facebook. People will see what you tweet. But you all know this, don't you? Given some past situations regarding bloggers and authors, we all know the risks of mixing business with pleasure, and vice versa. But what about with other bloggers? How do you handle that? What if someone badmouths you? What if someone steals your content? What if you're ignored?
Don't worry. It happens to the best of us. (You know, if any one group of bloggers can be considered the "best.")
Negative tweets about blogging usually stem from seeing newly created or poorly designed blogs. And while your first reaction might be something along the lines of, Oh my God why would ANYONE use that font?! or I can't see a damn thing on this crazy background, that's probably not what you should be tweeting. After all, new bloggers have feelings, too. It's better to be helpful than insulting.
Of course, other negative tweets arise from different situations.
The problem with these negative tweets is that they add up. Maybe not even literally. Depending on the severity of the tweet, one alone could make someone turn away from blogging. I've seen it happen, and it's a shame. This community has lost some really great people.  Sure, there are always new people to be found, but it's not the act of people turning away from blogging that's the problem. It's when they turn away from blogging as a result of poor Tweeting (or negative feedback).
I won't get into specifics, but our community had a really bad bashing case on its hands with the fallout of a certain acclaimed blogger. Whether you searched the name of the blogger or a related hashtag, there were insults everywhere. And whether that blogger deserved it or not (everyone's opinion differs), it created one big snowball effect and resulted in bloggers going against one another. Some couldn't take the drama, so they split and hightailed it out of the community for good.
And after seeing a negative Tweet regarding my own site tonight, I had to wonder: Is this what blogging is coming to? Is this what our community is coming to? I'd like to think not. I'd like to think that as much as we get shaken up, we just as easily brush it off. But I do know that, having been blogging for almost two years now, I notice more negativity now than I did when I started.
But I have faith in this community and all its members. So remember to think before you Tweet! We all work hard. Let's focus on that instead.
"This book really peeked .. peaked .. piqued my interest."
Don't be shy now. Whether you're guilty of committing this grammar slip-up or not, we've all seen it at one point or another. It tends to appear quite often when discussing books. The problem here is that these three are homophones – words that sound the same (and may be spelled the same) but differ in meaning.
the breakdown
peek: to look or glance quickly or furtively, especially through a small opening or from a concealed location; peep; peer.
__________________________________________________________________________________________________
peak:
the pointed top of a mountain or ridge.
a mountain with a pointed summit.
the pointed top of anything.
__________________________________________________________________________________________________
pique:
to affect with sharp irritation and resentment, especially by some wound to pride: She was greatly piqued when they refused her invitation.
to wound (the pride, vanity, etc.).
to excite (interest, curiosity, etc.): Her curiosity was piqued by the gossip.
to arouse an emotion or provoke to action: to pique someone to answer a challenge.
Think you can keep them straight?
*All definitions from dictionary.com