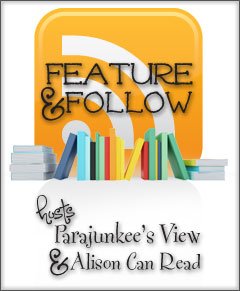 Follow Friday
is now acknowledging and promoting the following of blogs through their RSS feeds! Because this site is proudly powered by WordPress, there's no GFC (Google Friend Connect) option. BUT, you can follow TGR through my feed by clicking
HERE
or over to the right, in my sidebar. You can also subscribe through email!
What is the craziest thing you've ever done to get your hands on any particular book?

I've never done anything crazy to get a book. In fact, the thought of doing something crazy to obtain a book kind of sickens me – unless, of course, it's all in good nature. But otherwise I'm happy to contribute to book sales by doing things the old-fashioned/not crazy way: buying books for myself.
This week at The Grammarian's Reviews
REVIEW – The Statistical Probability of Love at First Sight
REVIEW – The Fault in Our Stars
Blogger to WordPress, a How To guide
(*This post is older, but I think it might be helpful for those looking to switch to WordPress.)
I know I've told you my contemplations about moving to WordPress, and the followup, but what about what happened in between? What about the actual move? That's what this post is for – to show you how you can make the move to WordPress, too. I promise it's easier than you think if you take your time and stick with the decision.
STEP 1: There are two versions of WordPress? Help!
Yes, there are two versions of WordPress: WordPress.com and WordPress.org.
The difference between the two, in simple terms, is that the .com version is entirely free. When you sign up, it's much the same way as when you did with Blogger. However, be aware that if you have a custom layout/theme, or want a custom layout/theme, you won't be able to have it. WordPress comes with over a hundred theme options for you to choose from, and there are "Premium" ones you can pay for, but you must use one of their themes. You can change the header and sometimes colors, but that's about it, unless you want to upgrade for $30 to be able to add CSS and change fonts.
Make note, though, that even though you can't customize much, you can have your own domain.
On the flip side, the .org version is free to download. However, it requires an installation, as opposed to the .com version which is just you signing up for a blog account like Blogger. This is where everyone asks, Why do I need to install it? You need to download and install it because, while it is free, the hosting is not free. Granted, WordPress can host if you pay, or you can find cheaper hosting sites. Most hosting sites usually come with a free domain, too. So if you aren't hasty you can get a two-for-one kind of deal for your site. By using the .org download, you can have an entirely custom layout/theme; you're not limited to what WordPress has to offer.
The problem is that many people fear the installation, so they put off the move.
If you're afraid or confused about the WordPress installation process, these guides may help you:
A user step-by-step guide to installing WordPress.
STEP 2: Do I have to install WordPress on my own? I'm horrible with computers! Help!
The good news is no, you do not have to install WordPress on your own if you don't want to. How is this possible? Well, you have a few options:
Ask your layout/theme designer. If you're having a custom layout/theme made, your designer may offer installation services for free or a small fee. You might think you don't want to pay, but think of the hassle it'll save if you're really that uncomfortable with the thought of installing on your own. If they don't list installation as a service, ask! Most designers I've been referred to have offered to set up everything I needed for WordPress. Plus, asking can't hurt.
Some sites/programs will do the installing for you. For example, the web host Fantastico has the ability to automatically install applications to a website. In short: It will do the work for you!
Use visualization to your advantage. Don't like to read long installation guides? No idea where that file goes or what a client is? No problem. Use a video guide to help so you can have someone not only show but talk you through the process. The video guide below starts at the very beginning, before even downloading and installing WordPress; it begins with getting a host and domain.
STEP 3: OK, I know there is a .com & .org WordPress. Which is right for me?
So now you know the difference between WordPress.com and WordPress.org. But which should you use?
Whether you have a domain or not, if you're unable to or don't care to get a custom layout/theme, WordPress.com is your best bet. It's free, easy to sign up and super easy to import everything from Blogger.
If you have a domain and host (or are at least wanting/planning to self-host) and have your own custom layout/theme, then downloading the latest version of WordPress from WordPress.org is what you need to do. You'll have the freedom to make your site exactly how you want it to be without the limitations on customization of WordPress.com.
STEP 4: I'm still not sold. What, exactly, does WordPress look like?
Click through the thumbnails to see what WordPress looks like! They'll show what the Dashboard and Post Editor look like, what's it like looking through themes and the Import and Widget pages. For a comparison, you can also check out the WordPress.org Dashboard and Post Editor; the other menu tabs are all relatively the same.
WordPress.com:
WordPress.org:
STEP 5: I can do it!
Yes, you can do it! You're so close!
You know the differences and you've got the guides and screencaps. You're ready to switch to WordPress and you're ready to do so with confidence. Just believe in yourself and take your time.
REMEMBER: As you're making the change, nothing you have on Blogger will be destroyed. You can import your posts to WordPress without losing what you have on Blogger.
So, no pressure!
The end! You made it!
I hope this How To post is informative enough and answers the questions you may have about WordPress. I've tried to reply to every little question I've gotten. If there's something you're still confused about or you just have a general comment, please don't hesitate to ask/post in the comments or on Twitter; I welcome and encourage all feedback.
I couldn't take the thought of bloggers missing out on this move simply because there's not enough info out there for them to better understand WordPress, and/or because they're hesitant to leave the comfort zone of Blogger. Going by what I've seen on Twitter, a lot of bloggers actually want to make the move – they just don't know how or why they should. Hence, the reason for my creating this post.
If you've stuck around until the end of this, I thank you and wish you the best of luck on making the switch to WordPress!
I suppose this is an official statement of sorts, as well as an impromptu and unbiased voice of reason regarding Blogger and WordPress platforms. You see, I'm here to say that The Grammarian's Reviews will be switching to WordPress.
I know Blogger users are asking Why? and What's wrong with Blogger? and What's so great about WordPress? And I'm here to answer those questions:
Why?
While blogging is fun, I've always felt the need to treat it in a professional manner. I want TGR to reflect this sense of professionalism; I want TGR to take the next step. While 500 followers may not seem like a big deal, I do think it's a step in the right direction. TGR can continue to grow, and I want it to be able to do so.
What's wrong with Blogger?
I'd be lying if I said nothing was wrong with Blogger. The truth of the matter is that I've been using Blogger for over a year now and have become comfortable with its design, posting and dashboard elements. Any bumps that come along in the road I've always blown off with a nice Twitter-rant session. At the end of the day, Blogger was still the Blogger I knew well and that was good enough for me.
But thinking back on it, Blogger has been problematic. From posting to commenting troubles, I've had my fair share of freak outs over the complications.
What's so great about WordPress?
In all honesty, I'm still figuring out the answer to this one. It's a learning process. After asking around on Twitter, a lot of the responses said WordPress has better SEO.
SEO = Search Engine Optimization.
Search Engine Optimization = "the process of improving the visibility of a website or a web page in search engines." (thanks, Wiki!)
What does this mean? It means WordPress improves the chances of your blog showing up in results on search engines like Yahoo or Google. Which means your blog may stand out against others, which also means more readers and notoriety.
I don't know about you, but it sounds like a sweet deal to me.
But SEO is only one of the great things about WordPress. After playing around on a test account I discovered several nifty features, including a Copy Post option (which would be awesome for memes), easy widget tabs and areas, and a Links tab to compile all the links you may use on a day-to-day basis on your blog. I'm also a fan of the way it tracks comments and provides site feedback.
I could sit here all day and try to tell you the pros and cons, but when it comes down to it, I think it's best for you to take the time to explore WordPress on your own. Even if you're entirely lost from the moment you sign up. Click around. Read the "Help" tabs. And most importantly, don't be afraid. I know a lot of bloggers, myself included, express fear over making the switch. Nobody wants to lose all of the sweat and tears that have gone into the making of their blog. But there's nothing to be afraid of. There are guides all over the net to guide you in the exporting/importing process. And the best part? You can import your blog to WordPress and not lose any of the content that's already on Blogger, so the move can be slow and steady.
I hope these answers clear up some of the confusion pertaining to making the switch from Blogger to WordPress. If they don't and you still have some questions, feel free to ask in the comments or on Twitter (@thegramsreviews) and I'll do my best to help or just give a fresh perspective. Just keep in mind that I'm not a WordPress pro; much of what I've discovered has been through my own exploring and help from my good blogger friend, Amanda.