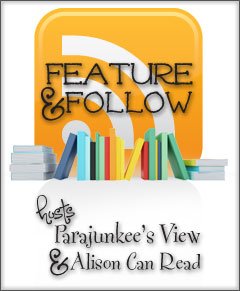 Follow Friday

is now acknowledging and promoting the following of blogs through their RSS feeds! Because this site is proudly powered by WordPress, there's no GFC (Google Friend Connect) option. BUT, you can follow TGR through my feed by clicking

HERE

or over to the right, in my sidebar. You can also subscribe through email!
_____________________________________________________
Have you ever bought a book BECAUSE of a bad review?

I'm not sure I've BOUGHT a book for that reason, but I've definitely checked out a book because of a bad review. As soon as I see something get less than three stars, I'll search through Goodreads and Amazon reviews to see if people felt similarly or not. So I guess, in a way, bad reviews compel me to look further into a book, but I don't recall ever buying a book because of a bad review.
_____________________________________________________
This week at The Grammarian's Reviews
Top Ten Tuesday – Spending a day with books
[review] Casey Barnes Eponymous by E.A. Brigg
[review] Being Friends with Boys by Terra Elan McVoy
Socialpunk by Monica Leonelle


Ima would give anything to escape The Dome and learn what's beyond its barriers, but the Chicago government has kept all its citizens on lockdown ever since the Scorched Years left most of the world a desert wasteland. When a mysterious group of hooded figures enters the city unexpectedly, Ima uncovers a plot to destroy The Dome and is given the choice between escaping to a new, dangerous city or staying behind and fighting a battle she can never win.
As a kick-off to the Socialpunk blog tour, I thought it'd only be fitting to get all of you excited about this book and trilogy, too! The description is a little reminiscent of The Hunger Games, isn't it? Or, perhaps, The Water Wars? Either way, it looks like a promising dystopian read. But, if you won't take my word for it, read for yourself! Below are three links to Kindle, Nook/iPad and PDF files of preview chapters. Check 'em out!
Socialpunk Preview for Kindle .mobi file

Socialpunk Preview for Nook/iPad .ePub file
Oh, and did I mention there's a contest running from April 3rd – April 30th? 'Cause there is, and you should totally participate and pass the news along. There are some GREAT prizes.
Monica Leonelle is a well-known digital media strategist and the author of three novels. She blogs at Prose on Fire (http://proseonfire.com) and shares her writing and social media knowledge with other bloggers and authors through her Free Writer Toolkit (http://proseonfire.com/free-writer-toolkit).