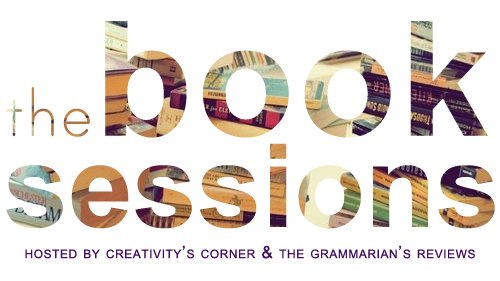 What is The Book Sessions? So glad you asked! The Book Sessions, hosted by both Anne from Creativity's Corner and myself, is a cross between a Read-Along and a Book Club.
Each session will feature 2-5 books of a specific genre or theme that we will be both reading and discussing over the course of several months. The discussions are intended to provide connections between involved readers and spark discussions that go beyond book reviewing and blogging.
The Details:
Reading lists and potential schedules will be posted up to two weeks prior to the beginning of a session, along with a sign-up sheet.
It doesn't matter if you've never read the books listed, or if you've read them 100 times. As long as you're willing to read them with us and discuss them, we don't mind.
Placement in sessions will be limited – we want to be able to get a good real-time discussion going [see: use of Skype], and we want you to be able to get to know your fellow participants.
There will be one official discussion for each book at the end of the allotted reading time. However, Skype names and email addresses will be exchanged between participants, and we encourage you to discuss on your own while you're reading. (Just try not to spoil for anyone who hasn't finished yet!)
These are open-ended discussions. We will have guiding questions to ask should the conversation drag, but we want YOU to talk about what you want. We will, of course, accept suggestions for questions from participants as well. (Note: we don't want any of the readings to feel like assignments. These are open discussions for gushing, questioning, chatting, etc.)
Toward the end of each session, we will be asking for suggestions of book titles, genres, themes and potential dates for upcoming sessions – you'll have a say in what you want to read!
It is NOT necessary to have a blog to participate. If you do not have a blog, and would like to post about the books somewhere and do not have a blog, Anne or I will be doing a round-up post for each book. For those who do have blogs, at the bottom of the round-up posts we will include a linky for reviews or any other kind of post you'd like to add. (Note: reviews and/or any other types of posts are NOT required. Feel free to simply read and chat with us!)
Some things to consider before signing up:
YOU are in charge of finding your own copy of the books, BUT where you get them (as long as it's legal!) and what format you use (e.g. library book, ebook, audiobook etc.) is up to you.
All discussions will be held on Skype unless otherwise stated. Skype is free to download and use, but if you would rather not use it, then please don't sign up.
International participants are welcome! Please be aware that all discussions will be held in English, possibly spoken as well as written. Also, do be aware that we are holding discussions in real time, so we will need to be able to find common times [see: Doodle poll details].
You MAY NOT choose to skip a book. If you sign up to be part of a session, then you are agreeing to read and discuss ALL of the books on the reading list for your particular session. Don't let one book on the list deter you from a session; you never know: you may end up liking it!
As previously stated, places are limited! If you would like to be considered for a specific session YOU MUST FILL OUT THE DOODLE POLL. We will be choosing participants based on common availability, so this is absolutely imperative. If you do not fill out the poll, we will be forced to immediately disqualify you from consideration for that session. (Please note: we are aware that schedules change, and if you aren't 100% sure about your availability, please just give us your general availability. We will do our best to make sure that if you're chosen to participate, we'll find a time that works for you.)
For all potential participants: The Doodle poll times are all in Eastern Standard Time (use New York City as a reference). If you need help with the time conversion, please see THIS SITE.
What now?
This sounds great! Sign me up!
Great! We'd love to have you. Please fill out the form below, and DO NOT FORGET to fill out the Doodle poll! (Please make sure the name on the entry form and the name you enter on the Doodle poll match so that we know who you are!)
I want to participate, but I don't like the books/genre you've chosen! OR I can't attend during the dates you set!
Not to worry! There will be multiple sessions, all of different lengths, at different times of the year, and with different types of books! We've chosen to set up the first session as an example, but we want YOUR input on what to do next time, and we'll be asking for that later. Please just fill out the form below, and instead of filling out the Doodle poll, please mark "Not this time, but please keep me informed about future sessions!"
I want to participate and filled out the google doc form. When will I know if I'm in the session?
For this first session, we'll be announcing/contacting the participants during the second week of July. This way you'll have time to get the first book without having to scramble!
Still confused? Check out the first session below (just click on the titles to check out a description):
August 1-31 : Second Chance Summer by Morgan Matson

(OPTIONAL) August 24-Sept 15 : The Perks of Being a Wallflower by Steven Chbosky (Anne and I will be reading this together in preparation to see the movie, coming out the 15th. Please email us if you'd like to join in!)

September 1-14 : What a Boy Wants by Nyrae Dawn (currently on sale for $0.99 in eBook format!)

September 15-Oct 7 : Catching Jordan by Miranda Keannally

Oct 7-Nov 7 : My Life Next Door by Hunley Fitzpatrick
One Response to "Introducing The Book Sessions!"