What did I miss? is a new feature here at The Grammarian's Reviews. I thought it was about time I feature weekly updates and highlights from both here and other bloggers. So let's get on with the recap!

Grammar: a love/hate relationship — My thoughts on being a grammar lover, and grammar nazis.
[review] White Cat by Holly Black — The first book in the Curse Workers series. Highly recommended!
My "real life" experience with reading and books — Part of Armchair BEA week, in which I discuss how my family came together through their love for reading and Harry Potter.
The Best of 2012 — Part of Armchair BEA week, in which I single out my favorite book of 2012, and list some upcoming hopefuls.
An Introduction — My kickoff post for Armchair BEA week, in which I interview myself.
________________________________________________________________________________
In other news, I acquired Red Glove AND Black Heart by Holly Black – the next two books in the Curse Workers series! I'm soooo excited to begin reading Red Glove, especially because I'll be reading along with Amanda. Book buddies ftw!
I also participated in Armchair BEA this week (for a second year), and while it was fun at first, the fun quickly tapered off halfway through, which was a bit of a bummer. I really enjoyed it last year. This year just didn't click with me. Too much focus on Beyond the Blog stuff left me unable to participate, which ultimately just sucked all the fun out of it. However, I ended up meeting some pretty cool people that I now enjoy talking to on Twitter. So yay!
I've also gotten better at scheduling posts! Just about all of this week's posts I'd scheduled in advance! It made me feel so… productive. So I'm definitely trying to get posts finished ahead of time. It's a time saver and means I don't have to scramble around after working all day, trying to put something together. I'd rather take my time with my posts and provide better content. I think it's been going well. I've been getting a lot more feedback on posts and seen a tiny increase in traffic to the site. Whether there's a correlation between these things or not, I don't know for sure, but I'm going to take it that way.

Got a Kindle, or thinking of getting one? — Amanda talks about the pros and cons she's discovered over the course of a year with her own Kindle.
Cialina reviewed Red Glove just after I happened to finish White Cat — Her review made me super pumped and hopeful to continue the series!
Online book clubs — Amanda at LIO, while talking about how she goes Beyond the Blog, mentioned her online book club. I had no idea such things actually existed. Sure, I'd heard of them before, but for older people. But what really caught my attention was that Amanda's club employs Skype for communication. How frickin' awesome is that? Reading and talking about books? Online? I'd love to organize something like that, if it were possible and garnered enough interest/availability.
Sarah posted some beautiful shots of NYC — With this past week being BEA week, I was hardcore longing to be in the city; these pictures helped to make me feel like I was there, if only for a few seconds.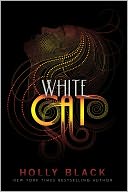 White Cat by Holly Black


Cassel comes from a family of curse workers—people who have the power to change your emotions, your memories, your luck, all by the slightest touch of their hands. Since curse work is illegal, they're all criminals. But not Cassel. He hasn't got the magic touch, so he's an outsider—the straight kid in a crooked family—as long as you ignore one small detail: He killed his best friend, Lila. Now he is sleepwalking, propelled into the night by terrifying dreams about a white cat. He also notices that his brothers are keeping secrets from him. As Cassel begins to suspect he's part of one huge con game, he must unravel his past and his memories. To find out the truth, Cassel will have to outcon the conmen.

MY THOUGHTS:
GO BUY THIS BOOK.
…Okay, let me start over.
White Cat's got it all – thrill, suspense, mystery, romance, and even familial relationships. Normally families take a backseat in YA thrillers, but such is not the case in this story. Cassel and his family are special – a new kind of special. Black makes you put together the pieces to figure it out. A glove here, a bare hand there, a little political unrest. You know it's a big deal, but you don't know why. So right from the beginning you're hooked, wanting to know more.
Don't even get me started on Cassel. First, cheers for a male protagonist. Second, he rocks. He's not the smartest or greatest character out there, but he's intriguing. As the reader, you're not even sure you can trust him. But he's such a relaxed narrator, that despite all of the misfortune happening around him, you're coaxed to coast with him. Cassel's the guy you haven't quite figured out yet.
I'm going to lump Cassel's friends and grandfather into their own group. They're each quirky, but rather underdeveloped. However, their quirks are just enough to be able to discern them from each other. Plus, their lack of development acts as a pull to keep you invested in the story. Not knowing enough about them only adds to the already present tension.
Admittedly, I hoped to see more of his brothers, after realizing they're valuable pieces in this story, but it didn't happen to the extent I would've liked it to. One brother appears more than the other, and this sets off the balance that's established at the beginning of the novel. At times I'd be like, What happened to him?  Black provides glimpses, but not a full explanation.
The good thing is that all of these broken pieces form a story. Granted, a story that's choppy, but choppy in the best possible way. Black successfully evokes a dreamlike state of narrative, emphasizing her characters' strengths and weaknesses. It's as if her characters aren't bound to one set track – they have choices. So, as the reader, you cannot fully predict the story's outcome. What's surprising to you is just as surprising to the characters, and I love that aspect of White Cat. The story is full of just enough holes to keep everyone – characters included – on their toes.
What Cat is not about giving answers to its readers. It's about taking you on a scary, wild ride and then hitting you over the head with OMG moments. And at the end all you want to do is ride again.