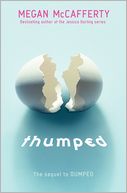 Thumped by Megan McCafferty


It's been thirty-five weeks since twin sisters Harmony and Melody went their separate ways. Since then, their story has become irresistible to legions of girls: twins separated at birth and living different lives, each due to deliver sets of twins . . . on the same day! In a future where only teens can "bump," or give birth, babies mean money, status, and freedom.

Married to Ram and living in religious Goodside, Harmony spends her time trying to fit back into the community she once loved and believed in. But she can't seem to forget about Jondoe, the guy she fell in love with under the strangest of circumstances.

To her adoring fans, Melody has achieved everything she always wanted: a big, fat contract and a coupling with Jondoe, the hottest bump prospect around. But this image is costing her the one guy she really wants.

Cursed by their own popularity, the girls are obsessively tracked by their millions of fans, who have been eagerly counting down the days to their "Double Double Due Date." Without a doubt, they are two of the most powerful teen girls on the planet, and there's only one thing they could do that would make them more famous than they already are:

Tell the truth.

MY THOUGHTS:
I was pleasantly surprised by Thumped – especially since I could finally distinguish the difference between Melody's and Harmony's chapters! (Trust me. It was difficult to do so in Bumped.)
But the sequel really works to flesh out the sisters by using their relationships with their friends and family, in turn giving another dimension to said extended characters. There's also a better sense of world building; an inside look at Goodside and mentions of other countries and locations help to place the status on bumping in various cultures. These two aspects bettered my understanding of the freaky concept, putting it literally in a universal perspective, but also a clearer one.
Still, it's the boys that make the sequel so good. Jondoe, Zen and Ram are so much more amped up, showing promise and actual personalities. In a manner of speaking, they break out of their shells. I also like that the guys have such a stronger presence in Thumped because it balances the presences of the girls. Melody and Harmony are so much more dramatic in this sequel, and at times it was grating on my nerves. McCafferty really brought attention to Harmony's religious beliefs and practices, almost to an over-the-top way. This only made me dislike her character even more. Melody's drama, in contrast, is tamer, but just as annoying because of her incessant whining.
Another slight bummer is the ending, which attempts to wrap everything up all nicely and sisterly, but really just leaves a lot of questions still unanswered. After everything they'd gone through, I'd hoped for something a little more conclusive and a bit less cheesy. But other than the ending, the rest of Thumped keeps a nice pace and is a page-turner.
TOP TEN BOOKS TO READ IN ONE DAY!
Anna and the French Kiss by Stephanie Perkins. When I opened this book, I literally could not stop reading. It demands reading in one sitting. IT'S THAT GOOD.
The Iron Knight by Julie Kagawa. I understand that this is the last in the Iron Fey series, but it was my absolute favorite in an It-All-Leads-Up-to-This! way. I tore through this book. So good, and Ash is just so swoon-worthy.
Boy Meets Boy by David Levithan. This one gets overlooked a lot, but I consider it a treasure. It's ridiculously cute, and ridiculously short, so there's no way you CAN'T finish this in one sitting.
The Realm of Possibility by David Levithan. I'm sorry, but I love this man's writing, and this is another overlooked gem of his. It was one of the first verse novels I ever tried and ended up falling in love with it.
Sloppy Firsts by Megan McCafferty. Um, hello? Marcus Flutie. 'Nuff said.
Peter Pan by J.M. Barrie. I'm sorry, but there's just something so wonderful and magical and youthful that keeps me coming back to this tale!
Secret Society Girl by Diana Peterfreund. You probably know her for her killer unicorn stories, like Rampant, but did you know she has this other incredible series? About people IN COLLEGE? I bet you didn't, or haven't given it a shot. It's humorous and just makes me feel good all-around. It takes me to another school and makes me want to be in a secret society for a day, too.
All American Girl by Meg Cabot. This book completely won me over, way back when. It's just full of good vibes and teen angst, and would be perfect for a day-long reading marathon.
Harry Potter by J.K. Rowling. It's not a perfect day if you're not at Hogwarts.  Granted, this would be a more lengthy challenge for one day, if you're also trying to tackle nine other books, but. Totally worth revisiting again and again.
The Sisterhood of the Traveling Pants by Ann Brashares. This is just a wonderful, summery, day-brightening book. I would love to go traveling with these girls again, even if only for a day.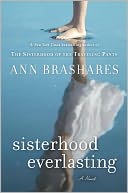 Sisterhood Everlasting by Ann Brashares
Return to the Sisterhood of the Traveling Pants … 10 years later.
Now Tibby, Lena, Carmen, and Bridget have grown up, starting their lives on their own. And though the jeans they shared are long gone, the sisterhood is everlasting.
Despite having jobs and men that they love, each knows that something is missing: the closeness that once sustained them. Carmen is a successful actress in New York, engaged to be married, but misses her friends. Lena finds solace in her art, teaching in Rhode Island, but still thinks of Kostos and the road she didn't take. Bridget lives with her longtime boyfriend, Eric, in San Francisco, and though a part of her wants to settle down, a bigger part can't seem to shed her old restlessness.
Then Tibby reaches out to bridge the distance, sending the others plane tickets for a reunion that they all breathlessly await. And indeed, it will change their lives forever—but in ways that none of them could ever have expected.
Okay, this is more of a Waiting on My Mailbox kind of deal. The release date for this was the 14th, and somehow I missed any and all publicity for it. I still have no idea how it slipped under my radar. I haven't read the series since I was about twelve, but I was immediately drawn to this. It's kind of like how I was with Megan McCafferty's Jessica Darling series; I finished it, then time went by, then a closing book was released and I was hooked all over again.
So, needless to say, I ordered this the moment I stumbled upon it. Now I just have to wait for it to get to me!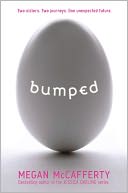 Bumped
Megan McCafferty
SUMMARY (FROM AMAZON):
When a virus makes everyone over the age of eighteen infertile, would-be parents pay teen girls to conceive and give birth to their children, making teens the most prized members of society. Girls sport fake baby bumps and the school cafeteria stocks folic-acid-infused food.

Sixteen-year-old identical twins Melody and Harmony were separated at birth and have never met until the day Harmony shows up on Melody's doorstep. Up to now, the twins have followed completely opposite paths. Melody has scored an enviable conception contract with a couple called the Jaydens. While they are searching for the perfect partner for Melody to bump with, she is fighting her attraction to her best friend, Zen, who is way too short for the job.

Harmony has spent her whole life in Goodside, a religious community, preparing to be a wife and mother. She believes her calling is to convince Melody that pregging for profit is a sin. But Harmony has secrets of her own that she is running from.

When Melody is finally matched with the world-famous, genetically flawless Jondoe, both girls' lives are changed forever. A case of mistaken identity takes them on a journey neither could have ever imagined, one that makes Melody and Harmony realize they have so much more than just DNA in common.
My rating: 4 stars.
?MY THOUGHTS:
Gah.
Sound familiar? Well, it will. Because it's the one word main character Melody insists on repeating.
Aside from that minor annoyance,
Bumped
is well-constructed. Twins Melody and Harmony are so fleshed out, so detailed in their personalities, that you
don't
automatically assume they're weird, freakish futuristic people. They may be set in a world very different from ours, but they could easily be your friends.
Melody is the independent thinker in a conformist society that's essentially forcing teenage girls to get pregnant. Harmony is the typical long-lost sister, coming from a different part of society that focuses on religion (Religious references are used often. They do not at all make the story feel preachy). Melody grows as a character, but I can't say the same for Harmony. It really feels as though Melody tackles each of her problems and looks to resolve them, while Harmony's just.. there. She's a bit too fickle as a character, her thoughts and motives inconsistently changing; I didn't know when to believe her, and that left me a bit estranged from her character.
As for their world, it's very thought-out, with a clash of old and new. Girls are encouraged to become pregnant multiple times before they're eighteen, guys act as nothing more than sex toys, and parents basically market their children to reproduce. The estrangement from the parents plays a weird role in Bumped. Melody's parents appear to be over-protective and have her entire life planned. But midway through the novel, they drop off the radar and are never really mentioned again; this made some situations more unbelievable.
The writing is catchy and descriptive. The romance is a bit forced and somewhat unnatural in their setting. The ending doesn't feel like an ending. But all in all Bumped is a fresh idea with a really good execution.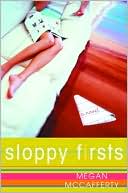 Sloppy Firsts
Megan McCafferty
FROM THE COVER:
When her best friend, Hope Weaver, moves away from Pineville, New Jersey, hyperobservant sixteen-year-old Jessica Darling is devastated. A fish out of water at school and a stranger at home, Jessica feels more lost than ever now that the only person with whom she could really communicate has gone. How is she supposed to deal with the boy – and shopping-crazy girls at school, her dad's obsession with her track meets, her mother salivating over big sister Bethany's lavish wedding, and her nonexistent love life?

My rating: 5 stars.
MY THOUGHTS:
Striking, vivid insight. Jessica is something unlike most characters: painstakingly observant and in tune to her surroundings, yet not abnormally so. But what she sees, and what she feels from what she sees, proves to be life-changing in the most thoughtful ways possible.
Case and point: Marcus Flutie.
Marcus is everything you want, even though you shouldn't. For every near-perfect aspect he possesses, there's also an imperfection. He is a character of poise or severe instability – there's no middle. With Jessica, readers will swoon over his charm, no matter how wrong he may prove to be. Marcus is, if anything, an ingenious character.
The story itself is broken down into the months of the year. However, the pace is brisk, much like Jessica's thoughts. The dialogue is fitting – neither weak nor strong. And Jessica's family has such great personality and inclusion overall, which is nice when so many families get put on the backburner in other novels. McCafferty manages to incorporate all elements of Jessica's life in a lovely way: family, friends and love.
EXTRA: The sequels are Second Helpings, Charmed Thirds, Fourth Comings and Perfect Fifths.