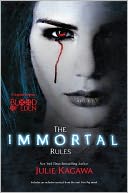 The Immortal Rules by Julie Kagawa


In a future world, vampires reign. Humans are blood cattle. And one girl will search for the key to save humanity.

Allison Sekemoto survives in the Fringe, the outermost circle of a vampire city. By day, she and her crew scavenge for food. By night, any one of them could be eaten.

Some days, all that drives Allie is her hatred of them. The vampires who keep humans as blood cattle. Until the night Allie herself is attacked—and given the ultimate choice. Die? or become one of the monsters.

Faced with her own mortality, Allie becomes what she despises most. To survive, she must learn the rules of being immortal, including the most important: go long enough without human blood, and you will go mad.

Then Allie is forced to flee into the unknown, outside her city walls. There she joins a ragged band of humans who are seeking a legend—a possible cure to the disease that killed off most of humankind and created the rabids, the mindless creatures who threaten humans and vampires alike.

But it isn't easy to pass for human. Especially not around Zeke, who might see past the monster inside her. And Allie soon must decide what—and who—is worth dying for.

MY THOUGHTS:
The Immortal Rules is a jam-packed, adventure thriller.  With vampires.  Just when you think your beloved characters are safe, you better start thinking otherwise. The grit and reality of Allie's life is harsh and unforgiving; she hardly gets her way. It's because of this that Allie is a great character.  You can't fully relate to her, but she makes you want to keep reading.  The trials and tribulations she goes through shape her very being, and as the reader, you get to watch her literally and metaphorically transform as a person. I wanted to know more about Allie – about her past, about her new life, about how she'd deal with anything.
This book is split into parts, focusing on the before, during and after of her Turning.  But while the before and during parts captivated me and held my interest, the after section had me caring less. I liked seeing Allie struggling and coming to terms with her new vampirism. I liked when she had Kanin by her side. Kanin made the story for me; he is the one character that kept me going – aside from Allie.  I wanted more of him. Unfortunately, he weaves in and out of the story. Allie is primarily with Zeke and his gang, all of whom I dislike. While I understand their purpose, Zeke and his comrades seem more of a side story than anything, and I quickly became frustrated with having to spend so much time with them.  And yet, Allie wouldn't leave and I prepared myself for the long haul.
The Immortal Rules begins with heavy, extensive descriptions of Allie's world and what's become of it. The story then rushes into her time and training with Kanin and just as quickly transpires into her traveling with Zeke's group.  It's here that the story loses momentum.  The pacing doesn't match the first half of the book. Neither does the action – the action is still prevalent, but much more repetitive.  I began to feel as hopeless and annoyed as Allie.  And maybe that's what was meant for me, as the reader, but I didn't buy or enjoy it. I kept wanting more from the plot and characters. Zeke's group is very one dimensional. The romance that pokes its way through seems forced and mismatched.  While I craved romance earlier on in the read, when it finally appeared I was left unsatisfied.
Ultimately the story was nothing like I expected or anticipated. It's so good and so detailed, but I can't help but feel that something's lacking. And I think that "something" is focus.
2 Responses to "REVIEW! The Immortal Rules by Julie Kagawa."