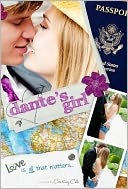 Dante's Girl by Courtney Cole


I have spent every summer since I was ten years old with my father in London. Every summer, since I was ten years old, has been uneventful and boring.

Until this year.

And this year, after a freak volcanic eruption strands me far from home, I have learned these things:

1. I can make do with one outfit for three days before I buy new clothes.
2. If I hear the phrase, "You're not in Kansas anymore, Toto," even one more time, I might become a homicidal maniac.
3. I am horribly and embarrassingly allergic to jellyfish.
4. I am in love with Dante Giliberti, who just happens to be the beautiful, sophisticated son of the Prime Minister of a Mediterranean paradise.
5. See number four above. Because it brings with it a whole slew of problems and I've learned something from every one of them.

Let's start with the fact that Dante's world is five light-years away from mine. He goes to black-tie functions and knows the Prime Minister of England on a first name basis. I was born and raised on a farm in Kansas and wear cut-off jeans paired with cowboy boots. See the difference?

But hearts don't care about differences. Hearts want what they want. And mine just wants to be Dante's girl.

My heart just might be crazy.
365 pages | Published: June 21, 2012 | Lakehouse Press

MY THOUGHTS:
Dante's Girl is a surprising read that kept catching me off guard, right from the beginning.
Cole wastes no time in getting you right into the heart of the story. But even though I was lost as to what was happening, immediately both Reece and Dante were personable characters that I wanted to get to know. And, as crazy as it sounds, they "clicked" right from the get-go. Normally the love-at-first-sight notion comes off stale or rigid to me, but it feels right for these two. What spoils their romance, for me, is the unbelievability factors. Reece ends up being taken care of by Dante, his family and his friends. And they're not in London. And she's allowed to stay with them. And intern. It's all a little too convenient, and because of this, certain plot points feel forced and unnatural.
But the descriptions of Dante's "Mediterranean paradise" of a home are enough to fawn over. Cole paints a very alluring picture of the swank and old world charm of Caberra. (You'll be wanting to visit a paradise of your own, that's for sure!) It's nice to see both sides to the country, to see it from both a visitor's and indigenous person's perspectives.
A mixture of puppy love, beautiful scenery, good luck (and a touch of political unrest) make Dante's Girl a cutesy, breezy read lacking the "glue," or sustenance to carry out its story.
3 Responses to "REVIEW! Dante's Girl by Courtney Cole."