When I'm not reading, blogging or doing homework, I'm cooking. Cooking is a lot like reading and writing: it brings ingredients together to create a single dish that tells a story of flavors, family, friends and experiences. And just like with books, you don't have to be the creator. Sometimes we're all just looking for a little eye candy. So here's a little food for thought!
I don't know if you all know this, but I'm a total foodie. A foodie is "someone who has an ardent or refined interest in food." Cooking is all about discovery for me – seeing which ingredients work well together, what flavors can be created, and what new foods can be tried. So now I'm bringing this discovery to TGR!
Every Monday I'll be sharing a new food find, recipe, and of course, some eye candy.
This week: veggie burgers
Hello, I'm Alissa and I may be turning into a vegetarian.
All right – that's not necessarily true. But I do love my vegetables, and lately I've been a severe quinoa junky. (That stuff is SO good!) So naturally if you put quinoa and veggies together, I'm going to start drooling. …Although technically I planned to post about another food find, after stumbling upon this recipe and giving it a go, I couldn't resist; I had to share.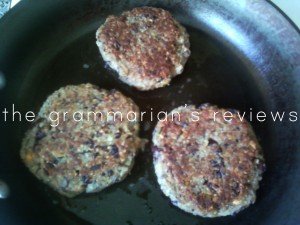 Do you see these beauties sizzling?
I had my reservations about making these, though. Years ago, when I'd decided to try going vegetarian, it was veggie burgers that stopped me from continuing a meatless path. Those premade, hard-as-rock patties were beyond unappetizing and finding this recipe brought back the memories of eating what might as well have been cardboard. But then I saw that they called for quinoa and I thought, How bad could they really be?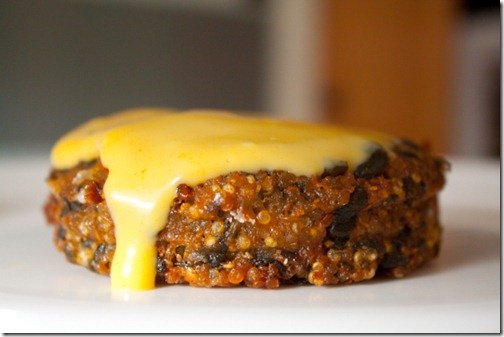 Not. Bad. At. All. (Of course this one looks way more picture-perfect than mine!)
INGREDIENTS
veggie burgers
1/2 cup uncooked quinoa
1 carrot, diced
4 scallions, sliced
2 cloves garlic
15 ounces can black beans, drained and rinsed
1/4 cup Italian seasoned dried breadcrumbs
1 large egg, lightly beaten
1 tablespoon ground cumin
¾ teaspoon salt
½ teaspoon pepper
2 tablespoons olive oil
DIRECTIONS
In a small pot, bring 3/4 cup water to a boil. Add quinoa, cover, and reduce heat to low. Cook until liquid is absorbed, 12 to 14 minutes; set aside.
In a food processor, pulse carrot until finely chopped. Add cooked quinoa, scallions, garlic, beans, breadcrumbs, egg, cumin, salt, and pepper; pulse until combined but still slightly chunky.
Form mixture into four patties. In a large nonstick skillet, heat oil over medium; cook burgers until browned, about 8 minutes per side. [note: I found that this made too much of the mixture for only four patties (I didn't want them that thick), so I ended up with six instead.]
In the end, these were absolutely delicious. And hey – I didn't have to feel guilty for eating two because they're packed with protein!
4 Responses to "Whip it Up Mondays! {14} – veggie burgers."